Copyright © Mountain States Fence. All Rights Reserved.
Call 1-800-873-3623 or email msfence@msfence.com today to receive a quote. With over 50 years of experience Mountain States Fence can assist you in all your fencing needs.


Commercial/Industrial Chain Link

We are dedicated to commercial & industrial installation
We Build Quality Fences!



​​It's More Than a Fence, It's Security!

Our company is founded on the notion that we will install a quality product in a professional manner.

The key to our success has always been our employees. They are professional, courteous and are consistently exceeding our customers' expectations.

Commercial chain link fence is the product of choice due to its strength, ease of installation, and versatility. Not only does a chain link fence define property lines and enclose business and government facilities, it is a major player in a facility's overall security system. Chain link is a cost effective method of protecting facilities by being a theft deterrent, a means of access control, and a visual boundary.​​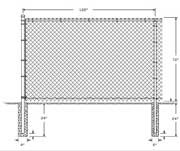 Developed to meet the rigorous requirements of commercial and industrial applications, chain link fence offers years of maintenance-free, long lasting protection. All steel components are protected by zinc coating, which is a proven anti-corrosion technology used for more than 200 years.




​Proven reliability for over 50 years.
Phone 801-261-4224 / 800-873-3623