Copyright © Mountain States Fence. All Rights Reserved.
Call 1-800-873-3623 or email msfence@msfence.com today to receive a quote. With over 50 years of experience, Mountain States Fence can assist you in all your fencing needs.



How Much Do You Care For Your Best Friends?



Providing is Caring​​





Now you can keep your dog healthy, happy and safe. Man's best friend likes the great outdoors and getting out to exercise is healthy. But it's usually illegal - and often dangerous - to let your dog run loose. There's always a danger from traffic or from mischievous children, not to mention the risk of a dog biting some passerby. Even a smart dog can't always tell friend from foe. A custom kennel will protect your dog from people and people from your dog. That way, everyone's happy - and safe.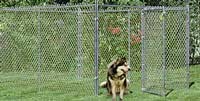 Custom Dog Kennels

​​Mountain States Fence portable dog kennels are available in a wide variety of standard sizes or they can be custom made to meet your specific requirements. Width, length and height can vary and size and quantity of gates can also be made to meet your needs.

In all cases, materials used in our kennels meet or exceed American Society of Testing Materials (ASTM) specifications, including:

Zinc-coated steel chain link fabric.
Residential chain link fence gates.
Strength requirements of steel posts and rails & fence fittings.

Our portable dog kennels are made to give lasting, durable
​performance and protection. You not only get peace of mind,
​but the assurance of a quality product.

Standard Sizes

4' x 12' x 72"
6' x 12' x 72"
8' x 12' x 72"
Custom Sizes Available Upon Request



Each kennel includes 2 side panels, 1 end panel, and 1 gate panel with a 4' walk gate



​Proven reliability for over 50 years.
Phone 801-261-4224 / 800-873-3623